A new report tells of the gruesome murder of a pregnant lady who hails from a South Eastern state in the country just two months after she got married. The murder was allegedly committed by her newly wedded husband.

Early this year, January 10th precisely, one Rita Onyemauchechukwu Onyebuchi —now late— and her husband Mr Ikechukwu popularly called "Agbada" and both hailing from Anambra state, sealed their union in holy matrimony.

But what would happen two months and a pregnancy after is what has had people in shock. The story of Rita's murder starts when on the 24th of March, 2020 —a working day— her younger brother, Onyebuchi John Paul, who works in the same company with her, noticed she wasn't at work, which to him is a rather seldom occurrence.

In light of this, he put a call through to her but got no response. It was after working hours that he went to her house in Ezimezi village, Amawbia, Anambra state, but on getting there, saw that the door to the house was locked.

He also noticed that his brother-in-law's car was not parked in the compound. He then went home and called her husband but his number was switched off.

The next day, a Wednesday, his sister still didn't show up to work and their mother, who is suffering from high blood pressure, was beginning to get worried.

It was on Thursday morning, March 26th that John Paul stopped by his sister's house on his way to work and saw a crowd, including police officers, gathered in the compound.

GRAPHIC PHOTOS AHEAD. VIEWERS' DISCRETION ADVISED

He was led into the house where he saw the decomposing body of his sister lying in a pool of her own blood.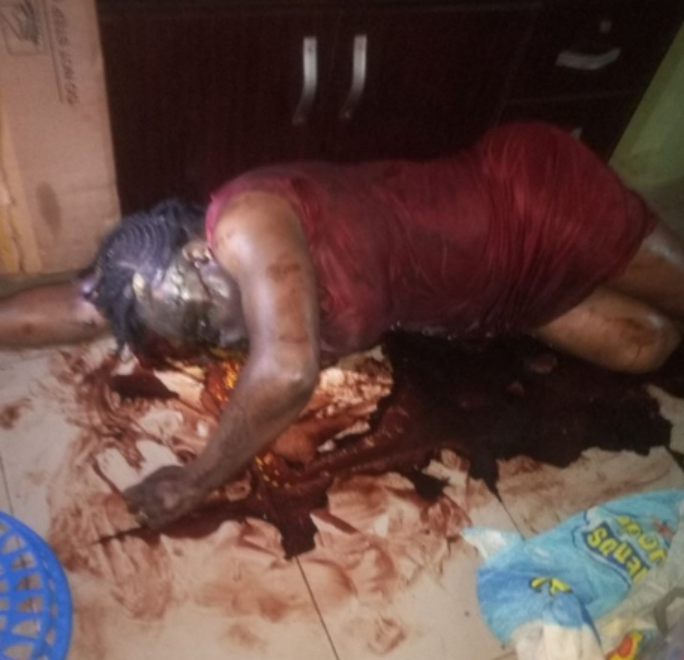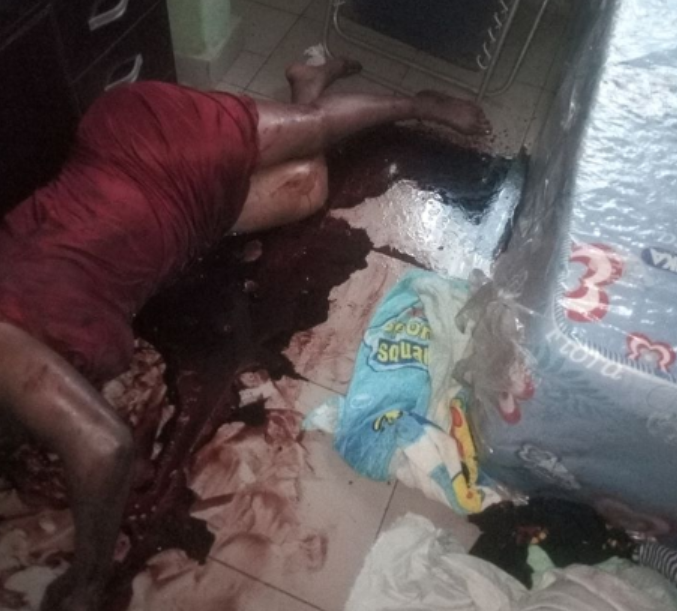 John Paul, who gave the narrative of the whole situation on his Facebook page, revealed that his sister was 2 months pregnant before she was murdered.

Seeking justice in his post, John also revealed that his sister's husband was arrested on the same Thursday, March 26 and was held at Central Police Station Awka.

On Saturday, March 28, he was transferred to the state CID Amaubia, Anambra. John suspects that his brother-in-law is the culprit of his sister's murder and seeks justice for her and her unborn child.

He wrote on his Facebook page,

Dear compatriots am writing this with a heavy heart, a heart that seeks for justice and wants the law to take its full place about what I will say.


Please I want all Human right activist, lawyers to help us out on this. I am by name Onyebuchi Johnpaul from Achalla village, Enugu-Agidi town, Njikoka L.G, Anambra State.

One of my immediate elder sister Mrs. Rita Onyemauchechukwu Onyebuchi who did her traditional and marriage rites on 10th January 2020 married to her husband Mr Ikechukwu popularly called "Agbada" from Isu Aniocha village in Awka north LGA in Anambra State. My sister and i were staffs of Philip Smith Security Limited in Awka.The deceased (my sister) failed to be at work on Tuesday 24/3/2020 at Philip Smith security limited awka, which has never happened before because she is always at work and dedicated staff of the company. Following her absenteeism at work on Tuesday i put a call to my sister on her phone but it was ringing and she wasn't answering her phone calls.She never responded to those calls and never returned the calls which is unusual. I continued calling her even when i dismissed from work but still ringing no response.

After work hours i made way to her house where she is living with the husband at Chima's compound in Ezimezi village, Amawbia on reaching there i saw that the house was locked and the husband's car is not in the compound, after several knocks and banging at the door no responds too.I decided to head home and requested that the husband's number should be sent to me by. The husband number was sent and i called the husband but his number was switched off.

On Wednesday 25/3/2020 i went to work as usual but still my sister was absent unlike her because she was always punctual to work. I still called but her phone kept ringing no response. I even called all her husband number but it was switched off.

That Wednesday i look left work very late so i couldn't stop over her house to check. So i informed my mom who said she has been calling her too but no response and also that her son-in-law (my sister husband) phone was switched off.

on Thursday 26/3/2020 I decided to stop at their house before going to work.Reaching the compound i saw police men in the compound and crowds gathered. When the special crime unit of the police arrived i was taken to the room to find the dead body of my sister MRS RITA ONYEBUCHI laying in pool of blood . And the body has started to decompose. The whole place was smelling and blood all over the bedroom.

I was shocked i couldn't tell my mom at that point who also came to know why her daughter wasn't answering her calls. Mama was suffering high blood pressure that why i couldn't tell her then and pleaded that people should take away from the place. My sister was 2 month pregnant as i was writing this story.

Please I want the human right activist and lawyers to come into this matter and make sure that the suspect is brought to book to face the law. The suspect is the husband Ikechukwu by name popularly known as Agbada from Isuaniocha he lives with his wife Rita Onyebuchi at Chima's compound in Ezimezi village, Amawbia.

Please forward this.
And Share please ?

Any human right lawyer that is willing to help should contact Me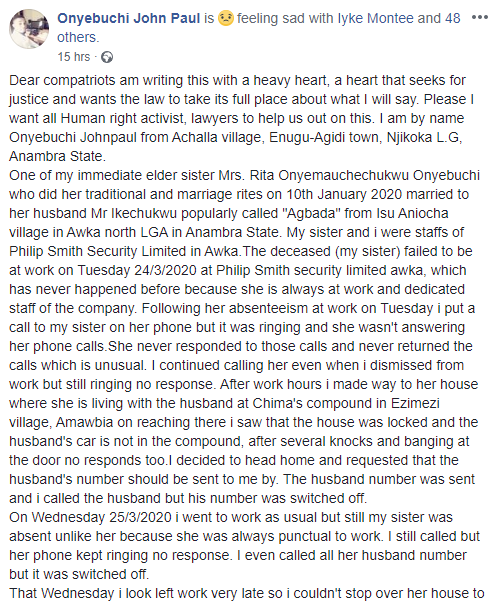 Please follow and like us: