A lady has narrated how she ditched Christianity to get married to a native doctor who pronounced her as his wife.
Sharing her story to BBC Pidgin, the lady identified as Lolo Eblechukwu Obi said she was appointed to be the wife of the Chiefpriest.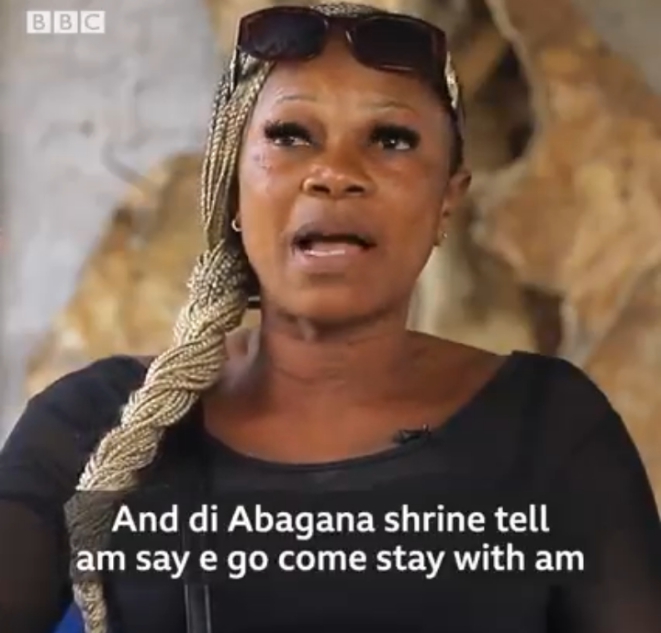 She said in the interview;
"I don't regret marrying a native doctor at all. When I first got married to him, all my friends mocked me because I was a serious church member before. I was a prayer warrior and even part of the Jerichodestroyers in church.
So when they heard I married a native doctor, they were laughing that after all my church things, I married Chiefpriest.
Before I used to see native doctors and shrine as bad things. But when I married my husband, I was convinced that there is nothing wrong with it because some pastors have been coming here to meet my husband for help. I always had the prophecy that I will be a great woman.
Many people, even my friends are happy with me now because I'm doing well. My name is Lolo Ebelechukwu Chukwu Obi and I am proudly the wife of Chiefpriest, Idemili cultural center Agulu.
It started when I visited him and the shrine told him this girl coming is his wife and I will be the one to take care of him till old age.
At first, I was looking at his age and looking at myself. I did not know what to say so I did not respond.
When I told my mother, she said no I won't marry him. So I went out and began to reason. And I remembered that when I was small, I had a dream where I was dressed like a Queen (Lolo).
I was like, maybe this is the dream coming to pass. So I was just calm although my mother was not happy with me then."
I am not scared of the work because even when I was in church, people used to call be "eze nwani", queen."
Please follow and like us: